We've been calling 2019 "the year of no pressure" in our house. After a crazy 2018 where we took on too much, we're trying to take it a bit easier. Part of this is not putting expectations on myself about what I will sew and when. My goal for the past couple of years was to not buy any clothes, and I stuck to it. This year, when needed and short on time, I've been buying jeans, shorts, and t-shirts. When I do sew, I've been sticking to patterns I've already made.
I was just going to buy a dress for a wedding we went to last month, but I couldn't find anything in stores I liked, and everything was more than I wanted to spend. I headed over to Stitch with the intention of buying a fancier knit fabric to make a quick Aldaia dress, but didn't find anything that met my criteria. My backup plan was a Deer and Doe Belladone, but I didn't want to deal with a muslin and fitting. Well, that went right out the window when Henna pulled out an amazing drill fabric. I know Deer and Doe patterns fit me pretty well out of the envelope by grading between two sizes, so I went for it.
I contemplated not making a muslin, but of course I had to. I cut out a 46 graded to a 44 at the waist. My trickiest spot to fit is the hips, but with the fuller skirt, I hoped I wouldn't have to do much and I was right. It fit great, but did feel a bit snug around the waist. Luckily, the drill has some stretch so I decided to move right to the fabric.
I liked the length of the muslin, so I added 5/8″ to the skirt so it would hit at the same spot once I finished the hem. I also lowered the bust darts. I hemmed and hawed about the neckline which felt too high for me, and I ended up copying the scoop neck from the Springfield, which hits in a great spot.
The trickiest part of this whole project was pattern placement. It was hard to decide where to position the gorgeous print! I enlisted Mal's help and I cut everything out flat to have full control over it. I'm very happy with how it turned out.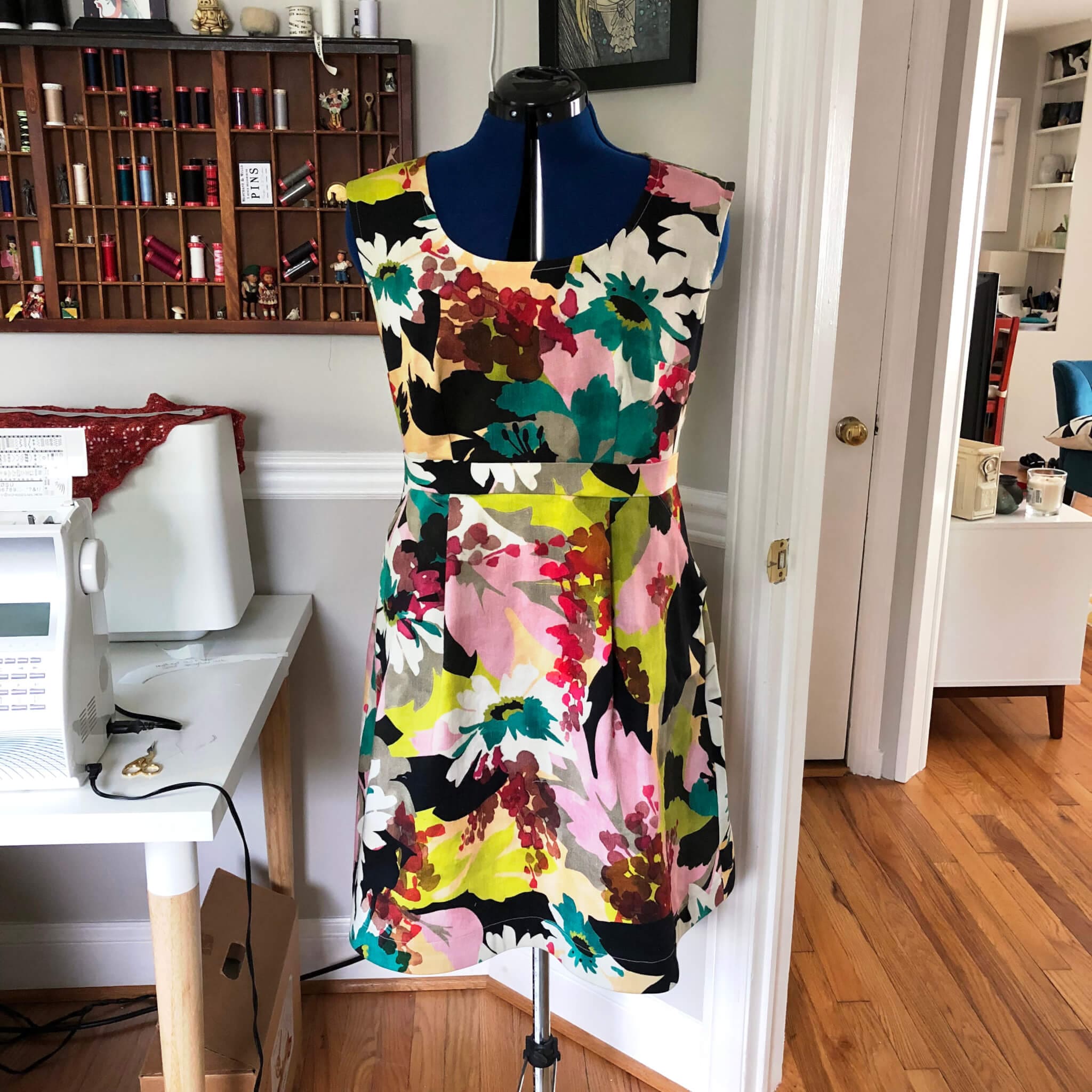 Sewing it up, I realized that I graded in too much for the waist, so I decreased the seam allowances there. I basted up the entire back and was actually able to get it on without the zip, but since I've never installed an invisible zipper before I went for it anyway. I used a regular zipper foot and it turned out great. I did hand stitch a few spots towards the bottom where I couldn't get close enough with the needle.
The fit mostly turned out great. There are some issues with the back to resolve, but it's hard to tell if it's an issue with the end of the zipper (and my sewing of it) or if I need to alter the pattern.
This pattern is so good for me. It's my favorite silhouette for dresses, it's easy to put together, and I think it looks best with fabric with some structure. It should be the perfect candidate for some of the fun prints Rachel brought back from Japan. Specifically, I'm thinking of this bird fabric for another dress. Maybe I'll make her one too, if I can figure out how to fit her from the other side of the country.