I'm always a fan of Noodlehead patterns, so I'm not surprised that my first Traverse bag has become my favorite bag! It's the perfect size for everyday use, and I love all the pockets. I'm a creature of habit so I rarely switch out my bags, instead I use one until it falls apart completely.
I did have a few complaints about my first bag, like how the rose gold picks up so much dye from my jeans, and how the strap started fraying because I left the edges exposed. I am constantly cleaning the dye off the back of the purse and fray checked the hell out of the strap so it still looks good, but I decided I needed a second bag in black. I was about to order some black cork leather when I found this faux suede at Fabric Place Basement.
Since the suede is perforated and backed (with a metallic silver!), there's a lot of dimension to it as you move the bag. It doesn't just read as polka dots. Also, it is SO SOFT.
For the hardware on this version, I used a turn lock, swivel hooks, and d-rings in nickel from Ning Bags, and black/nickel zips from Zipit. I've never used a turn lock before, but it was pretty easy to install. I had a drive punch in my bookbinding supplies that was the perfect size for the screws, and just used a sharp scissors to cut out the hole.
I finally used some of the amazing fabric Rachel picked up in Japan for the lining. These cats are the best! I also added in a 6″ wide zipper pocket in addition to the slip pocket because I always want more pockets. I was too lazy to cut down the 8″ zip so I just carefully sewed over the edge and then trimmed it.
I used the same construction method as the rose gold bag to attach the lining and exterior: I constructed both separately, folded the lining 1/4″, inserted it into the exterior, and then topstitched all the way around. I hand stitched around the strap holders because it was way too thick to get through with the machine. There was also no way I was going to be able to fold over the strap in a way to finish off the edges, so I just sewed it down, used a black sharpie to color in the white backing that was showing, and fray checked it. I'm sure I could have come up with a more elegant solution, but eh. I also opted to make the strap a fixed length.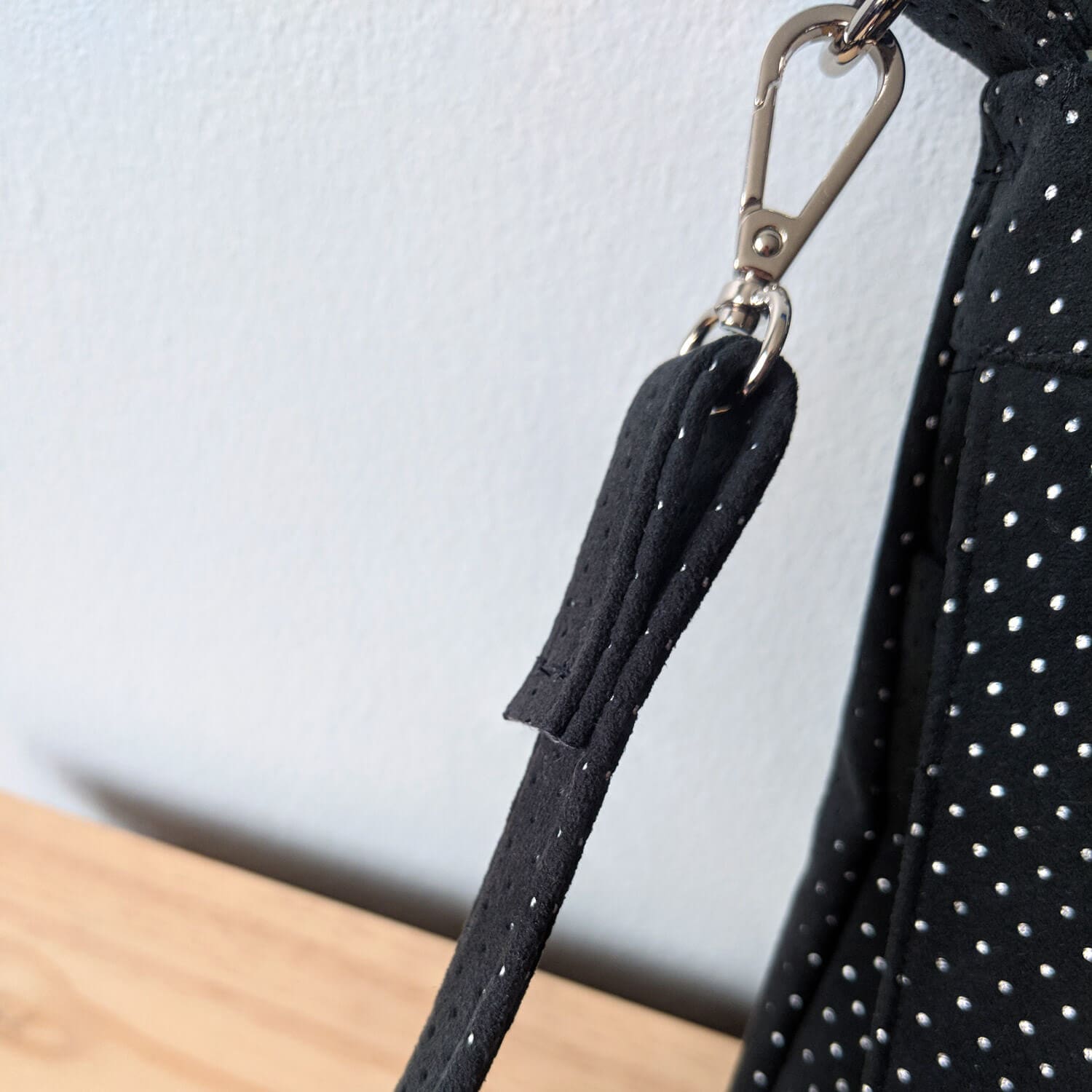 I'm pretty thrilled with how this bag turned out!