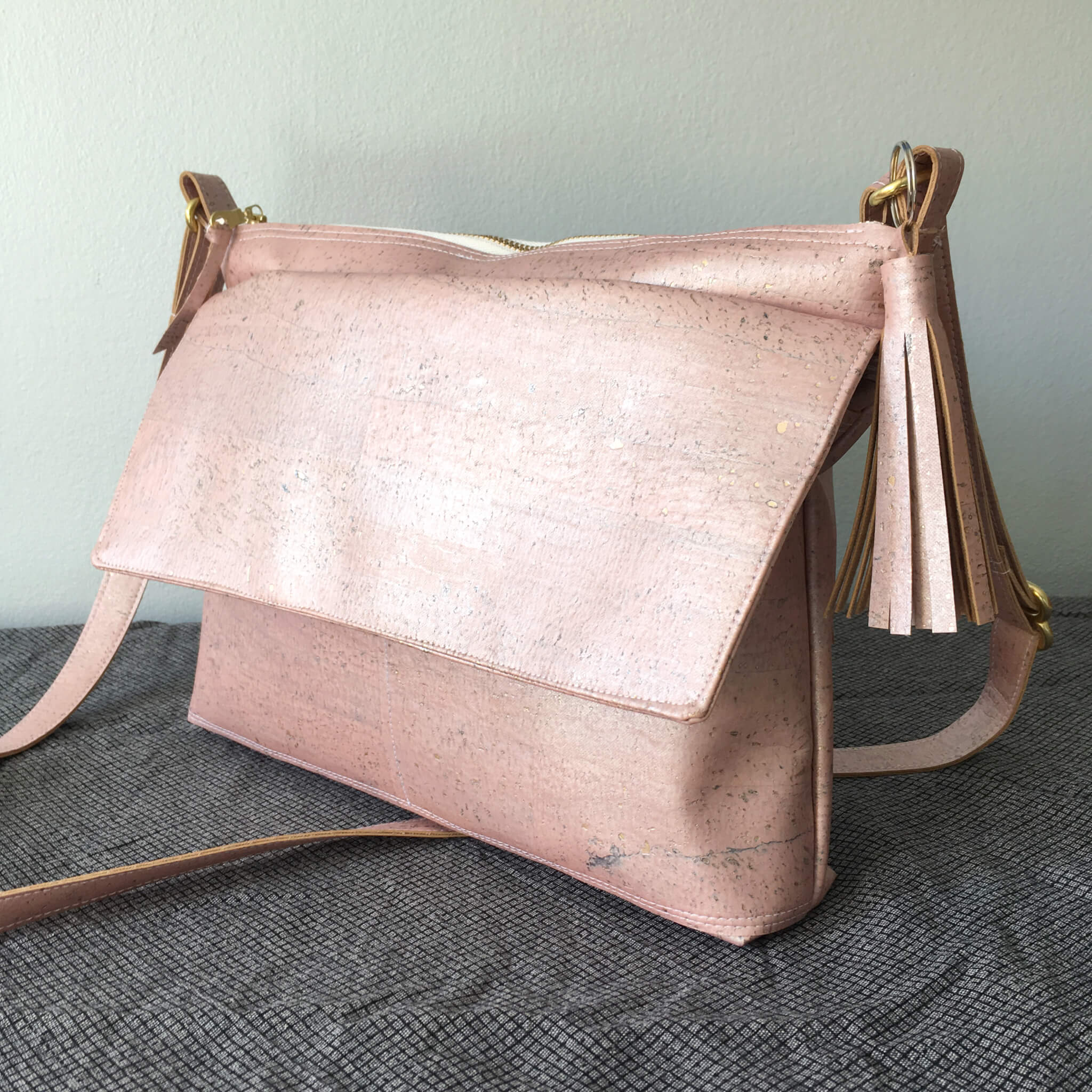 I'm super happy with how this bag came out!! I've been eyeing the Traverse Bag pattern for a while, ever since I saw this version pop up on the Noodlehead instagram feed. I liked the pattern a lot, and it is very similar to a purse I have that's falling apart, but slightly bigger. There have been so many times when I've wished my current purse was just a few inches roomier. This bag fits my wallet, umbrella, sunglasses, and a notebook with room to spare.
I knew I wanted to use something fancier than canvas or quilting cotton, so that leather version sent me down a spiral of internet research for leather alternatives. Not that I don't want to work with leather, but I figured a faux leather would be a good stepping stone before I jumped into a nice piece of leather. Plus, my sister is vegan and I like to make her things, so useful research all-around. After stumbling onto the Fabric Funhouse Instagram, I bookmarked it and forgot about this pattern until they posted this rose gold cork leather and I bought it immediately.
I ordered a 54″x18″ piece and it was the perfect size for the pattern. The cork leather feels really nice – it's soft and has a good weight and feels substantial. It's backed with a soft fabric, so on the zipper pulls and tassel the undersides are still nice enough to leave exposed. As a bonus, the 54″ width meant I didn't have to piece the strap. I used some leftover Robert Kaufman lawn from my Wiksten Tank for the lining, and bought a hardware kit from Noodlehead in white/gold.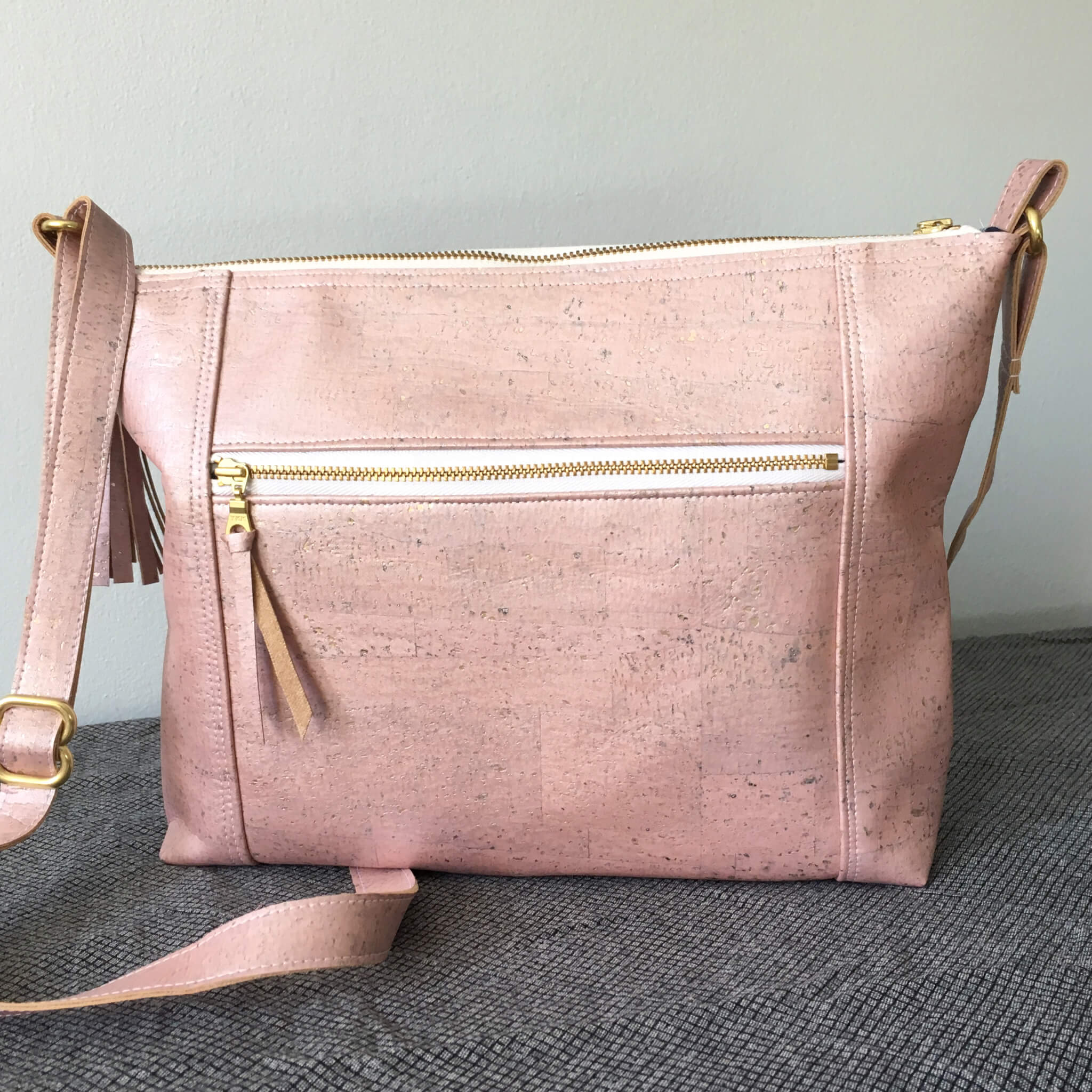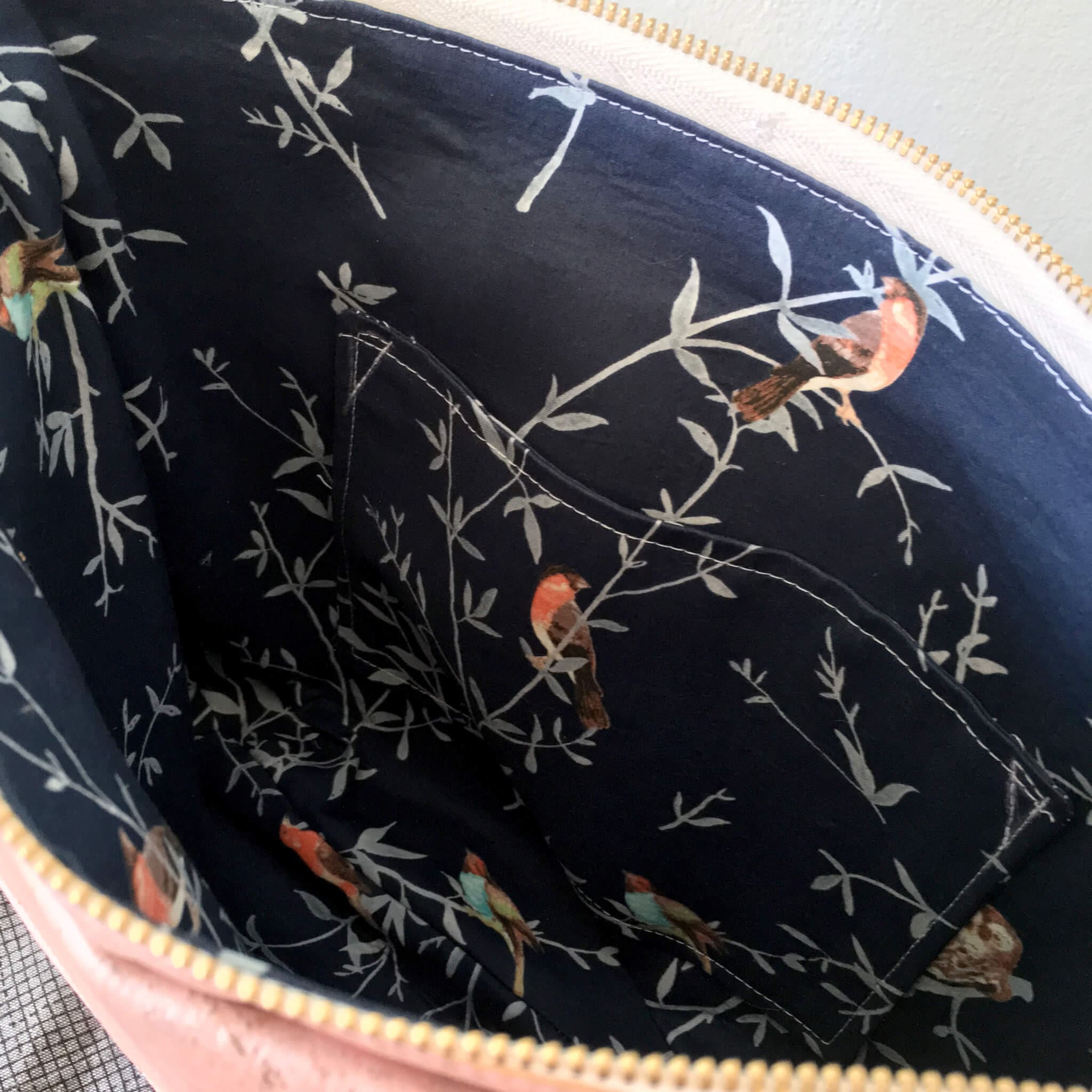 Working with the cork was super easy too! In fact, it was faster than working with other fabrics because I didn't interface it, you can't use pins, and it doesn't hold a crease so no pressing involved! I worked with a size 80 needle. I considered using a thicker thread, but just went with what I had on hand and it looks great. Cork is pretty forgiving and sort of self-healing, but where I had to rip out some topstitching does have some tiny needle holes (don't do what I did and sew the flap to the wrong side of the front). Luckily the holes blend in with the texture of the cork, but I'll have to keep that in mind for next time (aka – stop rushing). Also – Wonder Tape was my best friend with this project. I used it for everything instead of pins. I even used it to stick cork for the straps together, then cut them out, then sewed them. That way the edges are completely even.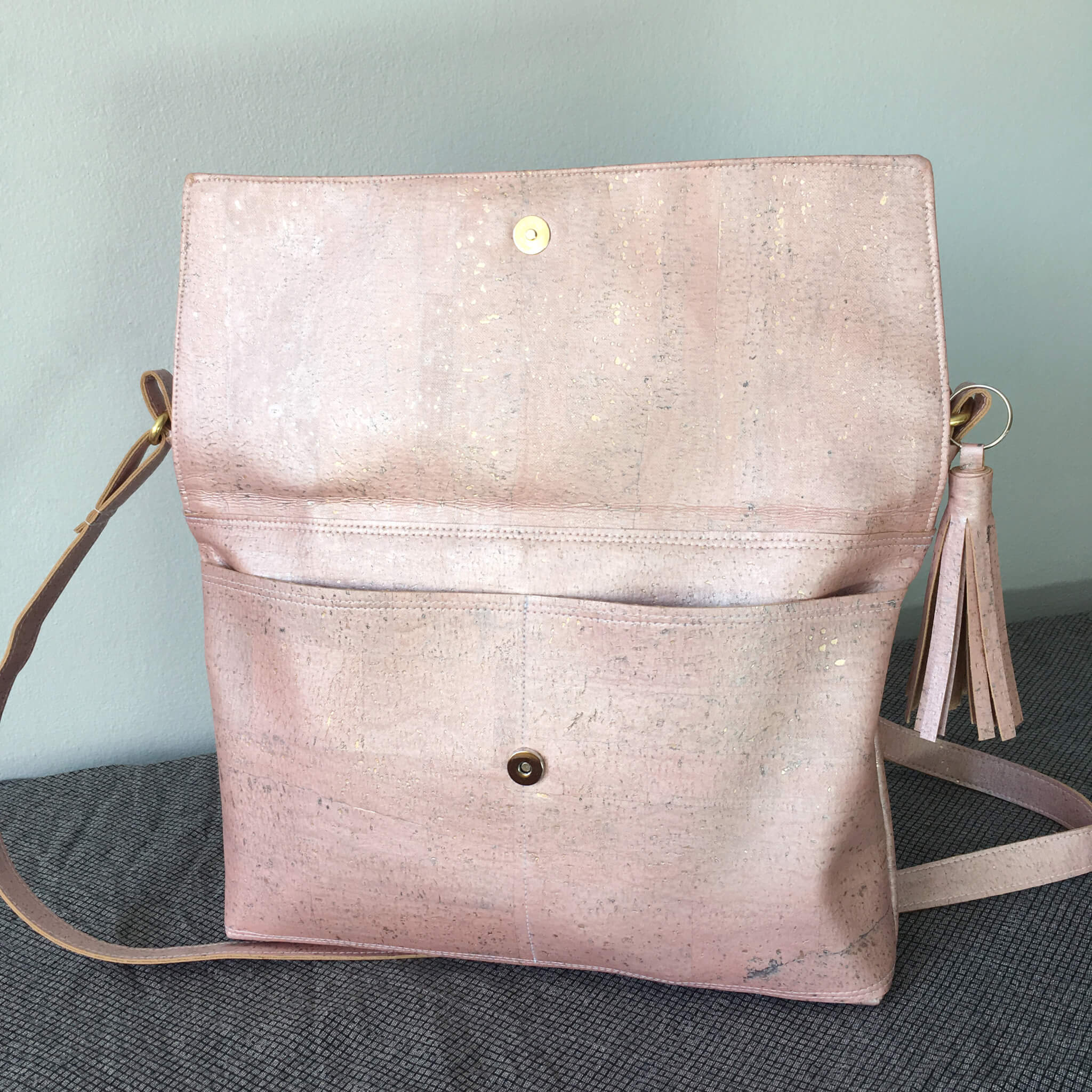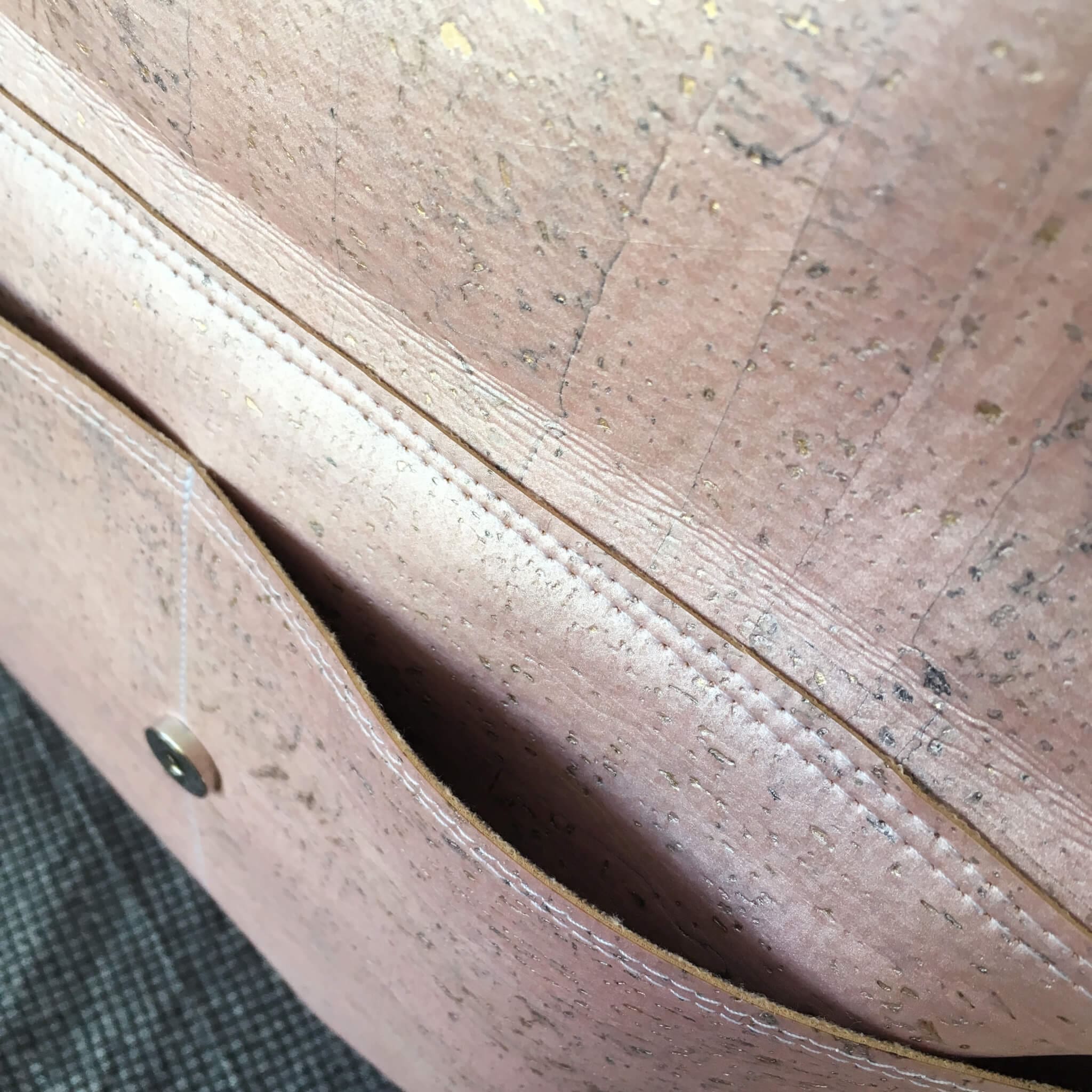 I wanted to leave some of the edges raw, so I modified the pattern by cutting off the seam allowances in those areas and then sewing. I also left the edges of the straps raw. For the flap I used cork on both sides, added a magnetic snap, sewed it per the instructions, and flipped it right side out and topstitched.  It worked well, so I think it's just a matter of preference if you want raw edges or not. The flap was a bit stiff, so overnight I weighed it down with books to try and set the crease, and it worked great.
I also attached the lining into the purse differently than the pattern called for. I didn't want to wrestle the entire cork bag through a hole in the lining, so I just sewed the lining, pressed down the top edge 1/4″, and then put it into the bag and topstitched all the way around. The most difficult part of the entire bag was sewing over the strap holders. I made the mistake of making them out of two layers of cork, so the finished holders were 4 layers thick, plus the bag exterior. It was a lot for my machine to get through and it skipped so many stitches. I ended up just hand sewing it. I'm not sure why I didn't just make new strap holders out of one layer, but that's what I'd do next time.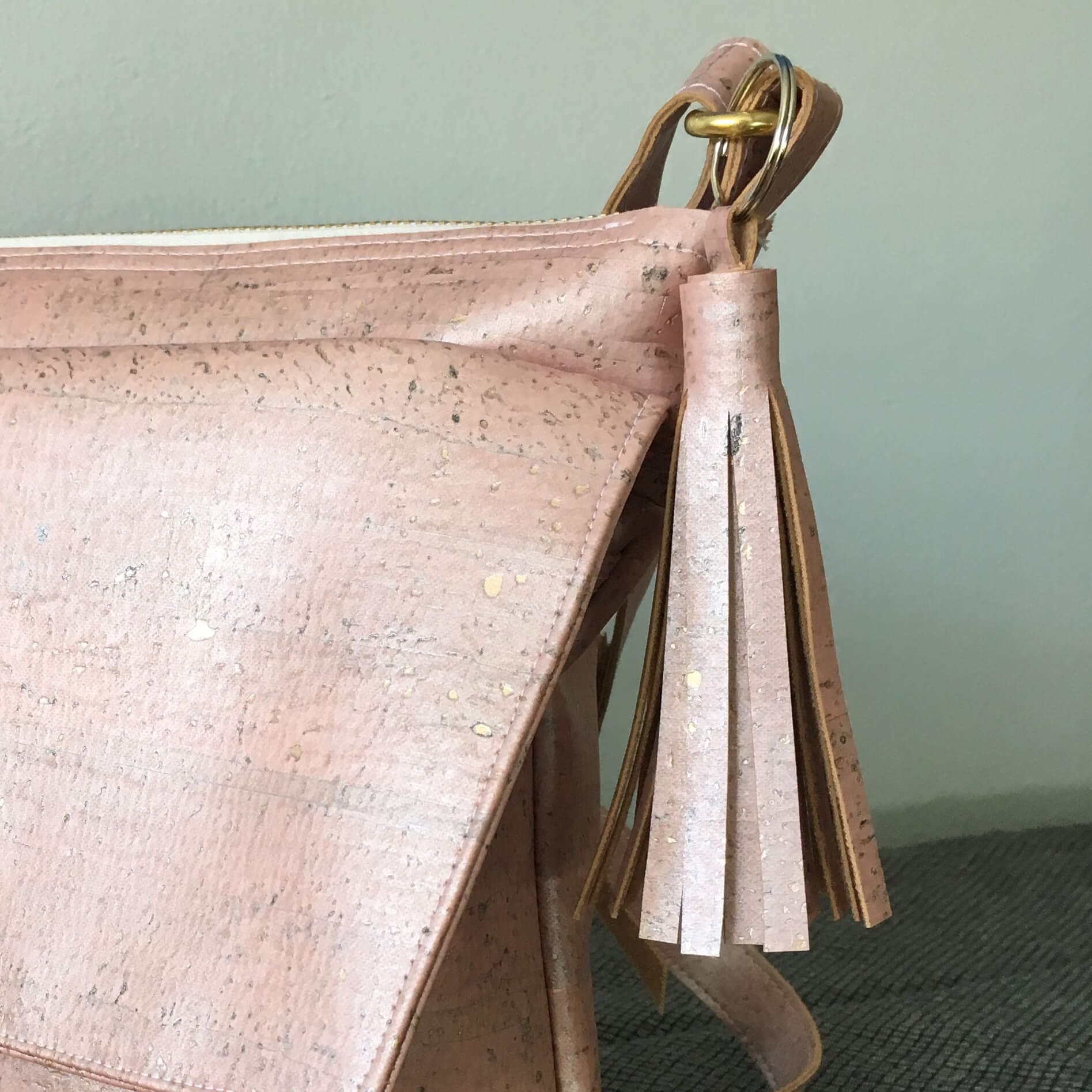 I decided to make a tassel, because why not? I googled and found a few tassel-making methods, which I combined and now can't remember the sources. I used gorilla glue since it's all I had, and it worked well and didn't bleed through the cork. I wrapped a rubber band around  the tassel to secure it while it dried, and of course I was enthusiastic with the glue and the rubber band stuck to it. I had to use an x-acto knife to scrape away the orange rubber band and it looks a bit messy, but I'm sure no one will inspect it that closely. I hung it off the bag with a random keyring I found while I wait for the nicer one I ordered to be delivered. Here's a handy how-to.
I've never been disappointed in a Noodlehead pattern, and this is another great one. I'll definitely be making more. I'm also totally sold on working with cork leather. Now to put it to the test and see how it holds up over time!