So I started sewing little things by hand when I was a kid, and took sewing as my elective in 6th grade where I learned how to use a pattern and a sewing machine and made a hideous cat pillow.
In college I picked up a $50 Brother from National Wholesale Liquidators, and made a few couch throws, pillows, curtains, etc., but I never did anything complex, and never made nor wanted to make clothes. About a year ago, I think I actually said out loud "I'll never make a quilt, and I will never make clothes."
Then I found the constellation quilt pattern from Haptic Lab. I, of course, ordered it immediately. It ended up being a wedding gift for one of my very best friends and while it took forever, it was fun and rewarding.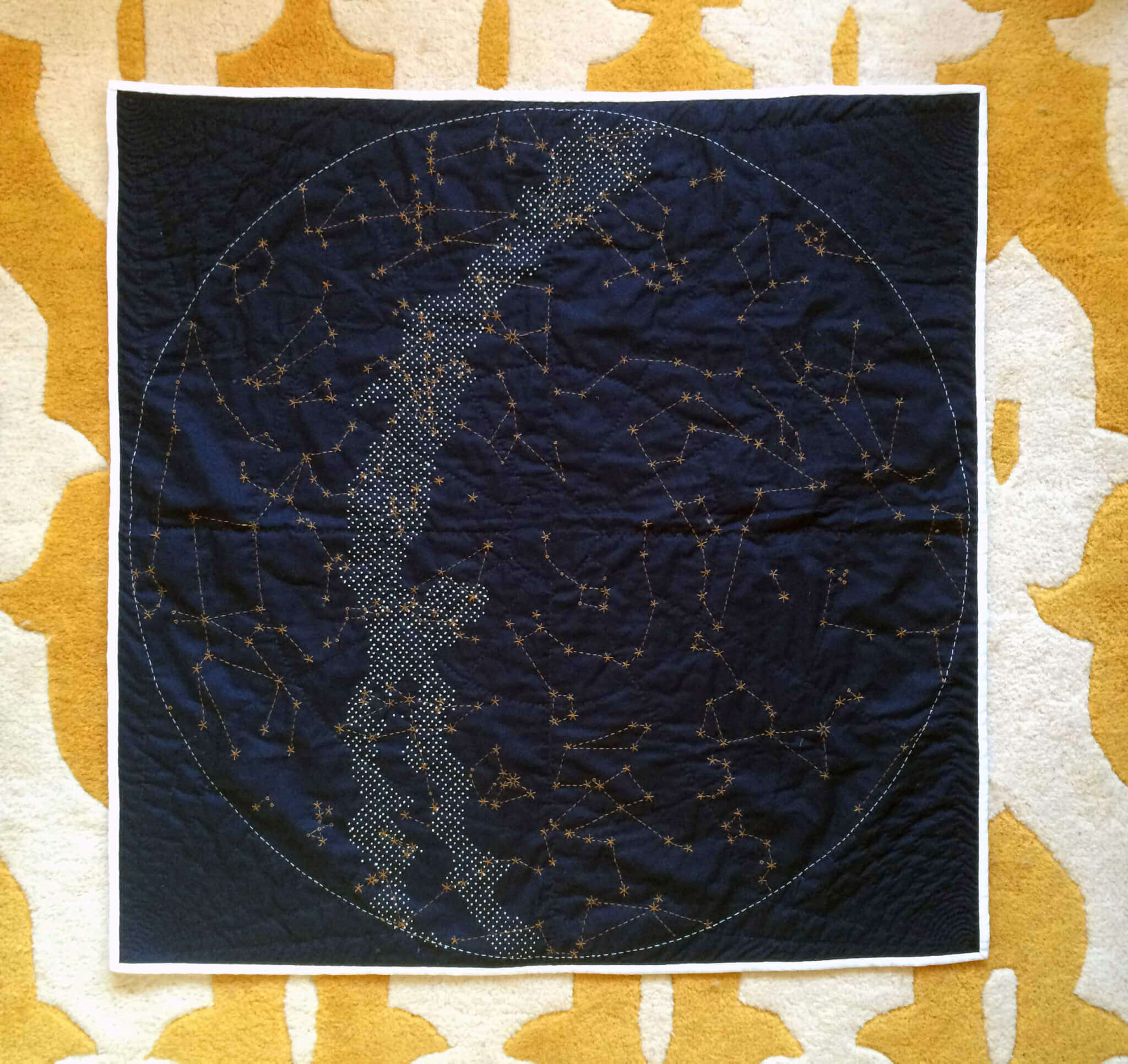 As I worked on it, I said "this is nice, but it's really an embroidery project, I'll never make a pieced quilt."
Naturally, I finished the binding and immediately jumped into my first pieced quilt. This shouldn't have surprised me, as I love all things tedious and after years as a bookbinder, I'm awesome at cutting accurately. I am slow though, I started this project in December 2015, and finished it in January 2017. In order to work on this, I had to buy a new sewing machine – I went with the Brother CS6000i.
As I was working away at this quilt top, I realized I needed a new bag, and my favorite variety from Brooklyn Industries was discontinued. I found the 241 tote from Noodlehead and set out to make it, adding in some extra pockets and an adjustable strap.
After working from a pattern for the first time since 6th grade, my firm "never making clothes" stance softened. After not finding anything appealing in stores to refresh my spring and summer wardrobe, I started looking around at patterns, and lamenting the fact that I couldn't find any shops nearby that offered lessons. I found one independent designer with a store locator and put in my zip code not expecting to find anything.
Which lead me to…Stitch Sew Shop. It wasn't even open yet, but I eagerly looked through their Instagram account and decided it was time to suck it up and make some clothes. As soon as classes were listed, I registered for a Wiksten Tank class, but I couldn't wait. I am patient while making things, but impatient about everything else. I found Seamwork, and the Akita seemed like a great choice. It went…OK. Not knowing anything about fitting meant, naturally, it didn't fit great. The first one I made was worn exactly two times, but I liked it enough to make a second right away from rayon.
I decided to wait for the Wiksten class before I did anything else on my own. It went better…but still not great. The class was so valuable though, especially talking with the ladies at Stitch about adjusting the pattern for a better fit. I started researching more about fit and narrowing down the types of edits I need to make to most patterns.
It's been about a year now and I'm a much more confident sewer, though I still tend to make proclamations about what I won't make, and then make it anyway a few months later.
WhSave
Save
Save
Save
Save
Save
Save
Save