Last month I took a pattern drafting workshop at Stitch with Cal Patch. I've been wanting to take a workshop since Stitch opened, but I wasn't interested in a workshop for a specific pattern (like jeans or a dress), since I like taking my time working on new patterns at home. The more sewing/drafting skill based workshops have never worked out for me timing wise…until now!
Kalle starts the weekend with a cocktail hour on Friday, and it was great to meet Cal and some of the other attendees ahead of the workshop. She also had really nice Stitch tote bags waiting for us which came in handy when I was packing up all of my supplies. We started the workshop by taking more detailed measurements than I ever have before. Just that alone was useful! We then drafted a shift dress pattern! It was amazing how quickly it came together. Cal guided us through the process step by step using our measurements.
Then we sewed up muslins. My first muslin definitely needed a little work. The original pattern was the same for the front and back, but with different darts. I had some clear sleeve issues (specifically the sleeve cap), and needed a little more room in the bust. Cal made some suggestions, including making separate front and back pieces. I also rotated the front darts into french darts. Onto muslin two:
It looked pretty good! I moved onto fabric. I picked this gorgeous indigo dyed cotton called "indigo moon," because moons. Unfortunately, just from handling the bolt when I bought it, my hands were BLUE. I pre-washed the yardage three times before the workshop, and I'm happy to say my hands were a reasonable level of blue after sewing. I think another wash or two and it will be perfect. I really like how the dye is imperfect and you can see lines and areas where the dye didn't take as well.
My goal for day two was to get the sleeves set in during the workshop so I could make sure everything looked right while Cal was around for advice.
It looked pretty good! There were some terrible drag lines from the pockets to the bust, which you can make out in the photos I snapped at the end of the workshop. When I got home I realized that in my rush to get this sewn up, I didn't do a great job with my side seams or french seam pockets. I redid them and everything looks much better.
I finished the neckline with bias binding and adjusted the hem. I decided to make it a split hem and make the back a tad longer. I like how it came out!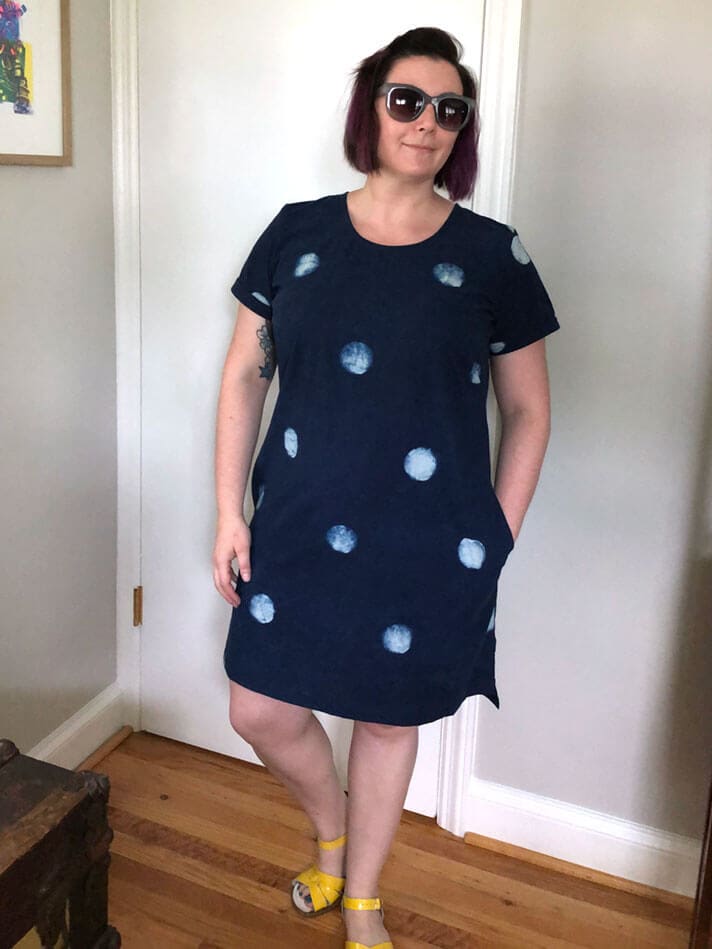 It's very comfy and I can see using this pattern to make a bunch of woven tees and dresses. The workshop was so helpful to get started on drafting to my measurements, and seeing the possibilities of altering this base (and other patterns) with different details. I've already experimented with tweaking patterns, but it was valuable to have a dedicated weekend to think up possibilities.