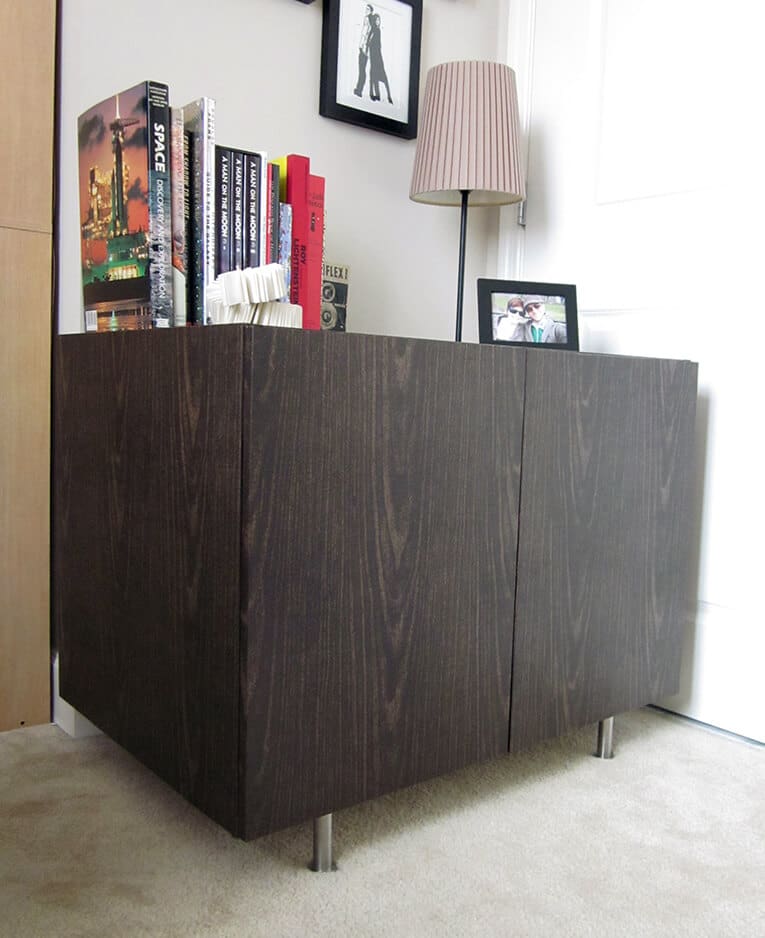 Yep – this cute new cabinet is housing the litter box. I put some books, a lamp, a picture, and one of my artist books on it for scale/to dress it up a bit.
We're moving to an awesome new apartment next month, which has an unfortunately tiny bathroom. We're talking no storage, not even a medicine cabinet. Obviously we have no room for a litter box in there, so I proposed we build a cabinet to house it and stick it in the office where we'll have plenty of room. Grossness of this aside…if you have cats and a small apartment, where to put the litter is a big problem.
I searched around for some inspiration, and really liked these two solutions: DIY Modern Litter Box Hider and this one (the first) from IKEA Hackers.
An IKEA hack seemed like the easiest way to go so I looked around their website and found most of the cabinets either too short or too narrow.  Buzz, as we know, is a giant fussy beast so it needs to be pretty roomy. We settled on a large kitchen cabinet and went to the store to check them out.
We ended up purchasing an AKURUM cabinet frame and 2 of the cheapest door in white, 4″ CAPITA legs and some handles that we lost in transit (oops).
As apartment dwellers we have no power tools aside from a drill, so to get a hole for the cat entrance we lugged one of the sides with us on a visit to a friend who happened to have a circular saw. I made him a helpful sketch (above).
The rest was simple…drilling in the hardware for the legs, building the cabinet, and then covering the entire ugly white cabinet with wood grain contact paper. We also put an old bathmat in there to try to keep the litter contained, and will probably add some stick up odor absorbers and a hook for the scoop. The contact paper looks so shockingly good, and I have so much leftover I'll probably cover our hideous media stand and beat up desk with it.
Anyway – this thing is genius. Why didn't I do this sooner?